Visit SLYSTEEL at the Big Reno Show August 2017
August 25, 2017 @ 8:00 am

-

August 27, 2017 @ 3:00 am

MDT

$12 - $80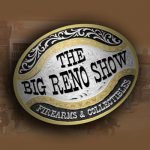 SLYSTEEL welcomes you to the Big Reno Show this August. The Big Reno Show is known for firearms and collectibles. This particular show caters to buyers, sellers and collectors of modern and antique weapons.
The Big Reno Show is Considered the Best by Many
According to Lou Fascio Inc. Production,
"The Big Reno Show is the biggest and best show of its kind with more selections for buyers, sellers and collectors. [You] can discover more than 1000 displays of antique and modern firearms, blades, Indian artifacts, cowboy and western memorabilia, world-class craftsmanship, fishing collectibles, rods, reels, books, artistry and much more."
Modern Knives are our Specialty
However, at SLYSTEEL we're more on the modern side of the spectrum. Currently our product line consists largely of cutting tools and edged weapons. Since 2013, our goal has been to provide you with "the edge of innovation" with our knife lineup. We live up to that mantra by designing and manufacturing unique knives that serve their owner is the most demanding circumstances without failure.
Featuring new Knife Designs
For instance, at the August 2017 Big Reno Show we'll be showcasing two of our latest Skeletek knife designs: the Skeletek Dagger, and Skeletek Bushcraft. These two knife designs illustrate our constant effort to design unique and innovative knives.
Handle our Blades in Person
One thing both of these knives have in common is the laddered skeletonization of the full tang handle. By skeletonizing the handles on both designs it allows you to have a more balanced blade. Additionally, the cutouts allow the user to choose their grip material. You can either use the included G10 or Micarta handles or remove them to reveal the cutouts. You can lash skeleton handle to a spear shaft or create a custom contoured grip with a paracord wrap.
So stop by our booth if you're in Reno, Nevada to check out our unique made in USA knives. If you can't make it to this time we'll also be there again in November.